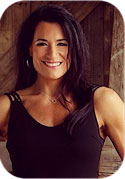 About Kathy
I am a nationally recognized and certified personal trainer. I struggled most of my life with my exercise & eating habits. After 25 years of a diet & exercise roller coaster, I made up my mind to get it right & help others.
I have been training since 2006 – my philosophy has always been that it is NEVER selfish to take care of you.
Let me help you get off the roller coaster. If you provide the will to change, I provide the tools & motivation to get you there.